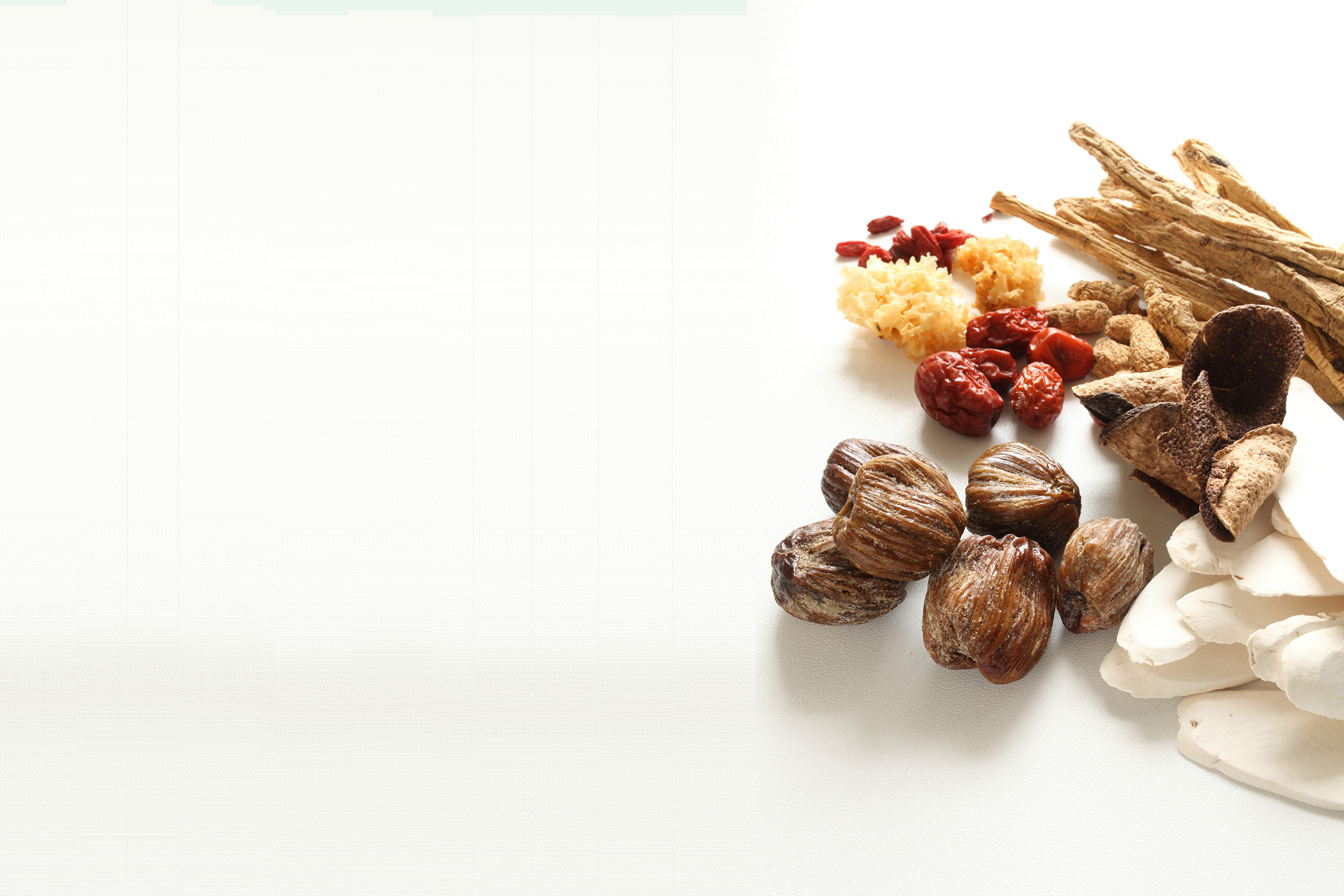 Introduction of Specialty Dishes and Ingredients
Please let us know if you have any requests for dishes when making your reservation. Prices are negotiable.
Sauteed Japanese Spiny Lobster with Scallions and Ginger
Japanese spiny lobster is sauteed with scallions and ginger, creating a dish that is both aromatic and light, and truly represents Cantonese cuisine.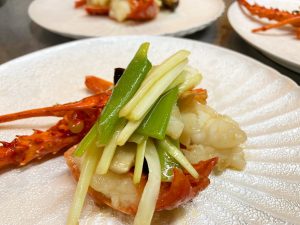 Saga Beef and Lotus Root Stewed in Black Vinegar
This dish features Saga beef and locally grown lotus root meatballs that are pan-fried and simmered in a special black vinegar sauce.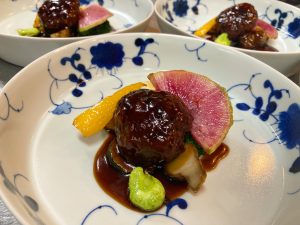 Seafood spring rolls
These spring rolls are made with minced shrimp and fish, seasonal vegetables, and locally-grown lemongrass, all wrapped up in a crispy, crunchy shell.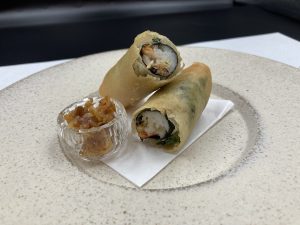 Crispy Chicken with AritaChicken
This dish uses Arita chicken, which is marinated overnight, coated with sweet sauce, dried for over 48 hours, and then fried to achieve a crunchy texture that chicken lovers won't be able to resist.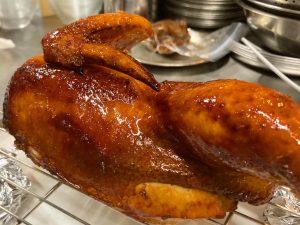 Deep-fried drunken prawns marinated in Shaoxing wine, stir-fried with spices, coconut, and bread crumbs.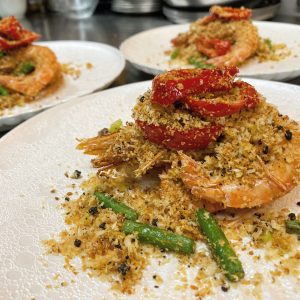 Fried garlic-steamed live scallops with scallions, a dish reminiscent of the streets of Sai Kung in Hong Kong.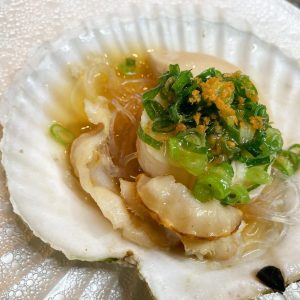 Sauteed turban shell with Portuguese sauce
Turban shell is sauteed with a sauce made with coconut milk and topped with Portuguese sauce, which originated in Macau.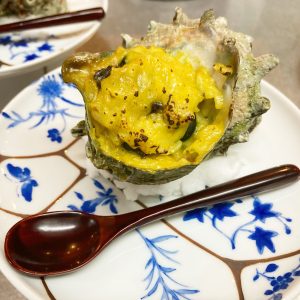 Steamed Squid with Fish sauce
This dish features squid that is lightly steamed and served with a sauce made with nam pla (fish sauce). The type of squid used may vary depending on the season, and can include cuttlefish, squid, or spear squid.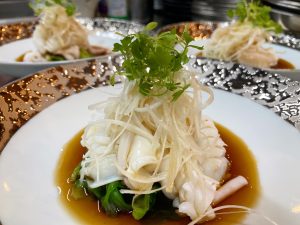 Pork with Homemade Salted Lemon Sauce
After grilling the pork to perfection, it is topped with a homemade sauce made from salted lemons. This versatile sauce goes well with any meat.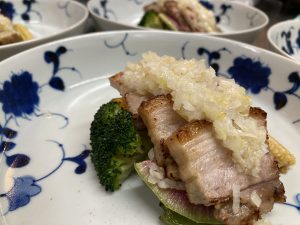 Grilled  Salt crust Saga Beef
This dish uses lean parts of Saga beef and is slowly cooked over the Salt crust  for about two hours to bring out its flavor.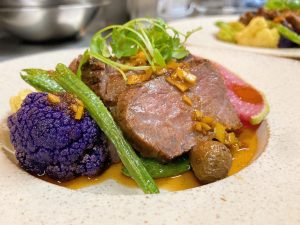 Noodles with Stewed Local  blue crab
This dish features locally sourced  blue crab, which is lightly sautéed with ingredients such as green onion and ginger, and then simmered with a broth made from roasted blue crab.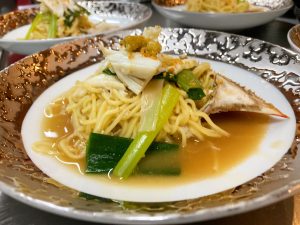 A rich dish of whole stewed shark fin from the Kesennuma area.
The  shark fin are cooked in a cloudy soup made from Arita chicken for about 30 minutes.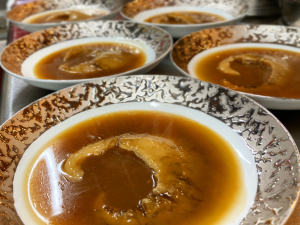 Jasmine tea crème brûlée
a dish that beautifully blends jasmine tea leaves with fresh eggs from Ito Poultry Farm.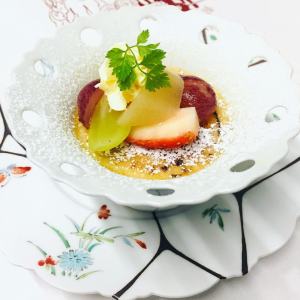 Roasted Duck
Unlike Beijing duck, our roasted duck includes not only the skin but also the meat. Enjoy the unique flavor that only comes from handmade cooking.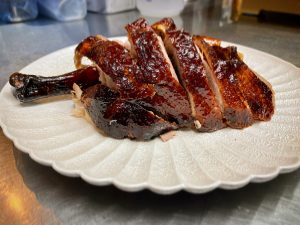 Buddha Jumps Over The Wall Soup
A premium soup made by steaming together ingredients such as soft-shelled turtle, dried scallops, shark fin, lotus seeds, and apricot kernels.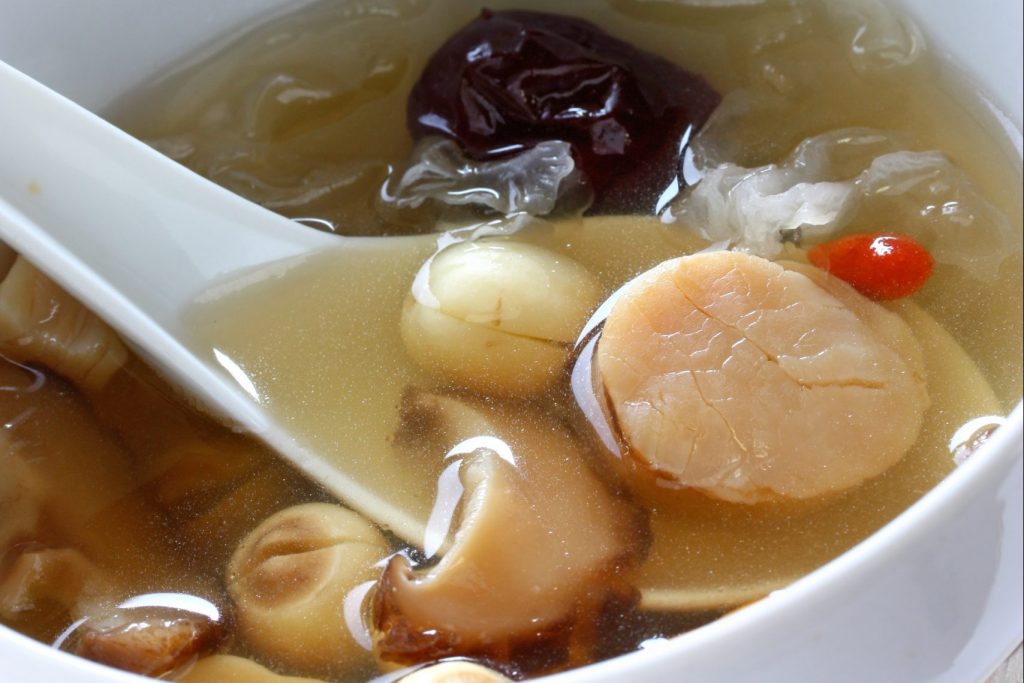 Stewed live abalone
Live abalone is stewed together with gelatinous ingredients such as pork spare ribs or chicken wings for two days to create a tender and flavorful dish.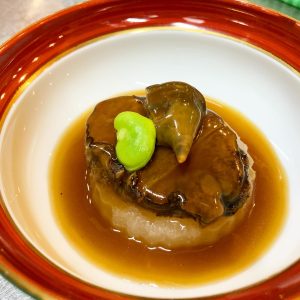 Today's appetizer assortment features seasonal ingredients prepared using Chinese cooking techniques and seasonings. The assortment highlights vegetables and seafood.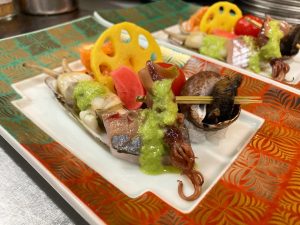 A simple dish of steamed fish from the grouper family, cooked over high heat to bring out the natural flavor of the ingredients.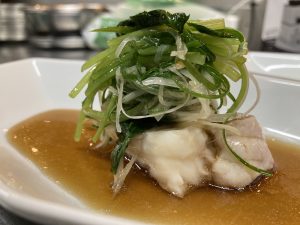 Kyushu (Saga, Nagasaki) is blessed with abundant seafood such as from Ariake Sea. In particular, the grouper family, which is known as "Seppanyui" in Hong Kong, is a high-end fish and is available all year round with various types. Steamed Grouper made with this fish is a simple dish that allows you to fully enjoy the taste of the ingredients.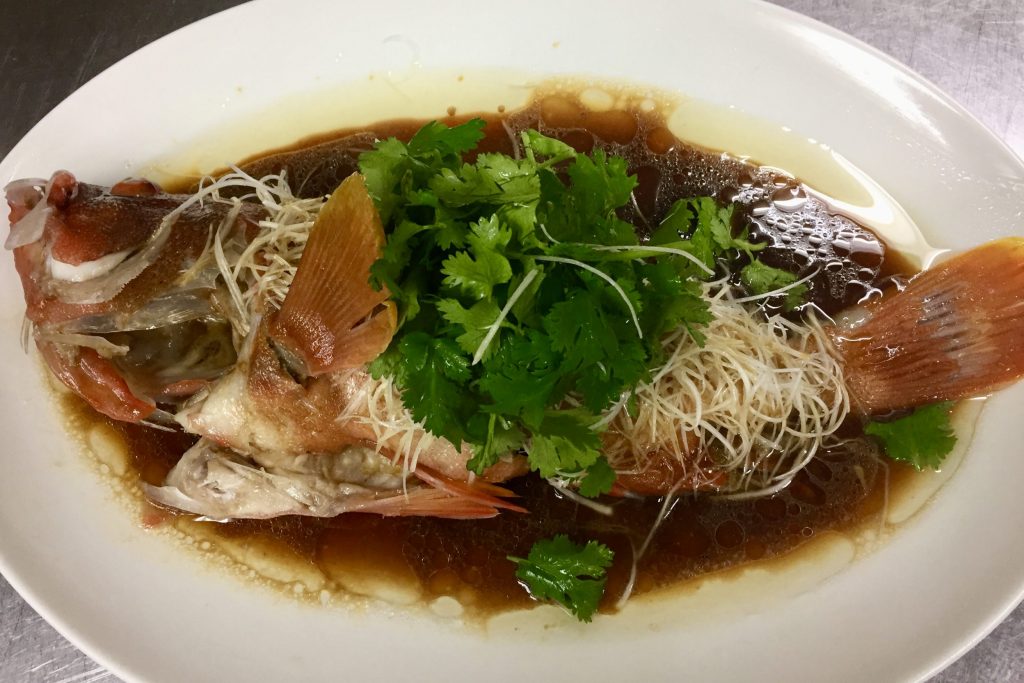 Arita chicken
Since Arita chicken feeds on plant-based food, it does not have the characteristic smell of meat. Above all, it is incredibly tender and has a crisp texture that is both healthy and delicious. Our crispy chicken made with  Arita chicken  is one of our specialties.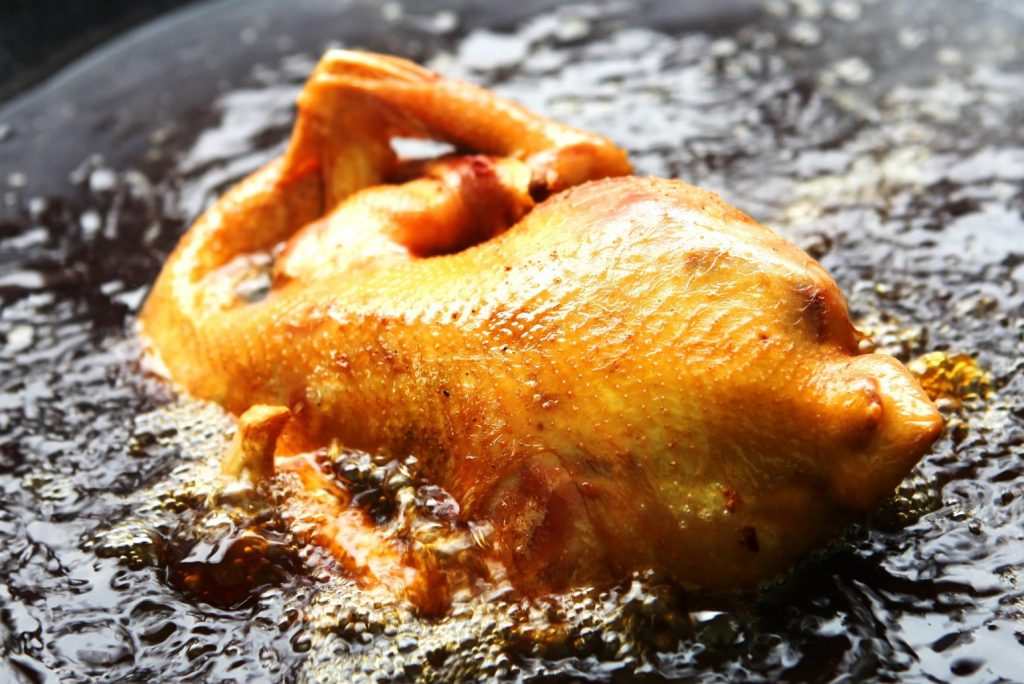 Coriander and Lemongrass
Coriander and lemongrass, which are specialties of Takeo in Saga prefecture, are ingredients that clearly divide people into those who like them and those who don't. However, at Kichijou, we prepare them in a way that anyone can enjoy. In our spring rolls, we finely chop these two ingredients and mix them with other fillings before wrapping them in pastry and deep frying them. This cooking method helps to suppress the unique aroma and transform them into a dish that is rich in fragrance.